Completed transactions tell the story. Over the past eighteen years, Shasta is proud of its successful track record in deals ranging from cross-border M&A transactions to complicated recapitalizations, restructurings and hostile defense engagements with some of the leading technology companies in the world. Shasta Partners' clients value senior level attention, broad transaction experience and persistence in getting deals closed.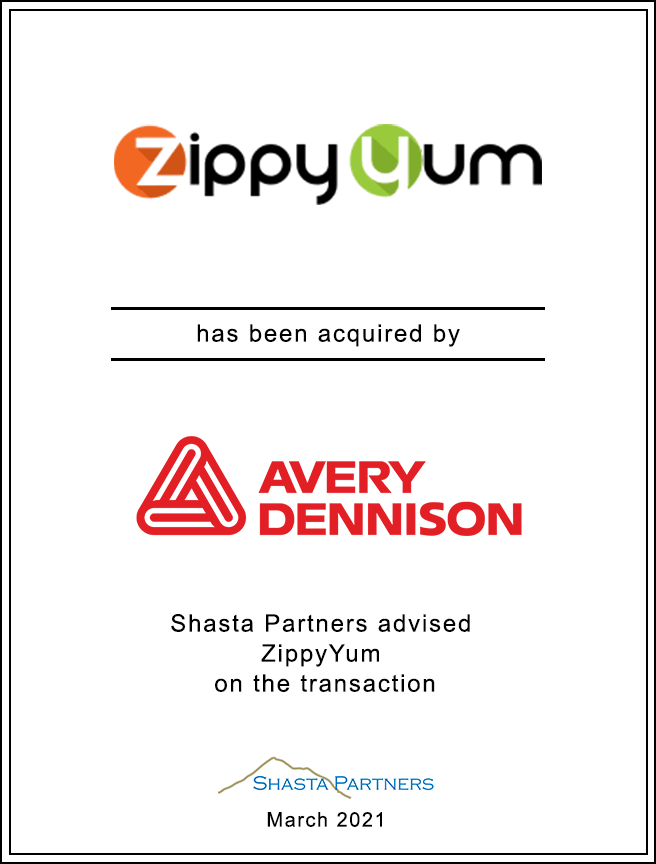 "Our initial deal was weeks away from closing when it fell apart due to the pandemic. Greg immediately sprang into action and re-engaged with strategic parties he had identified early in our process. Shasta Partners ran point on these discussions and ultimately delivered on an LOI with Avery Dennison. As we moved through diligence and legal, there was never a time I could not reach Greg and get his input on any facet of our complex deal. The pandemic turned out to have a silver lining as my investors and I are extremely happy with the Avery Dennison transaction. Greg and his team at Shasta Partners stayed committed throughout the long process and I'd recommend Greg to any founder looking to sell their business."
Daniel Riscalla / Founder and CEO, ZippyYum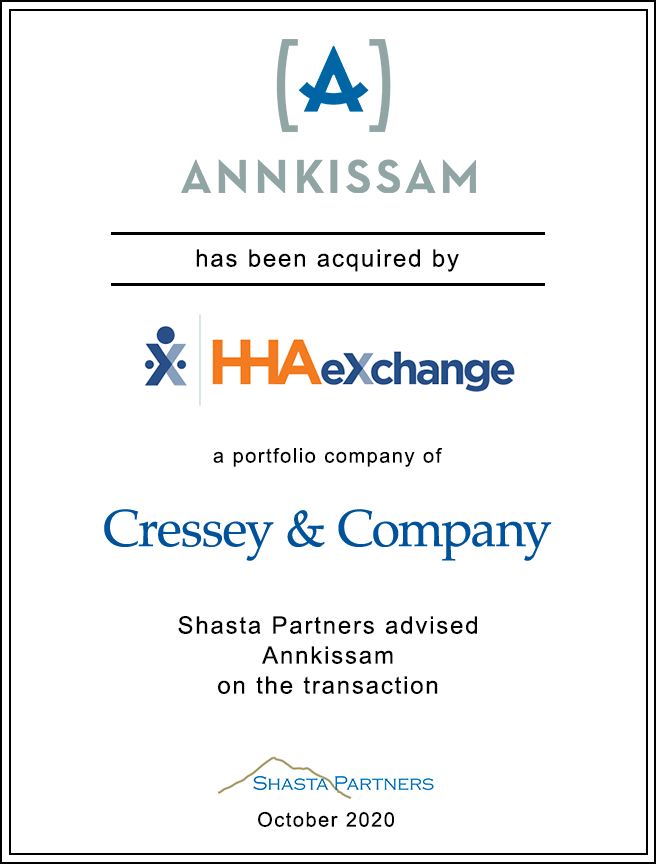 "When Greg kicked-off our process, he used the metaphor of serving as our river guide. I cannot imagine anyone guiding us better than Greg. His tireless work ethic and relentless optimism were evidenced throughout our engagement. His relationships in the private equity community proved invaluable as he navigated our successful process. We are extremely happy with our outcome. I would heartily recommend Greg and the team at Shasta Partners to any entrepreneur looking to hire an investment banker."
Gavin Murphy / Co-Founder, Annkissam
"Greg has the exceedingly rare combination of extensive transaction experience, incredible work ethic, deep software expertise, and unparalleled intellect all while being a genuinely kind person with a great sense of humor. Going through a process like this as a founder is intense. Yet, we always looked forward to the time spent with Greg. He was a coach, a sage and a counselor. We will be forever grateful for Greg and the team at Shasta Partners."
Mollie Murphy / Co-Founder, Annkissam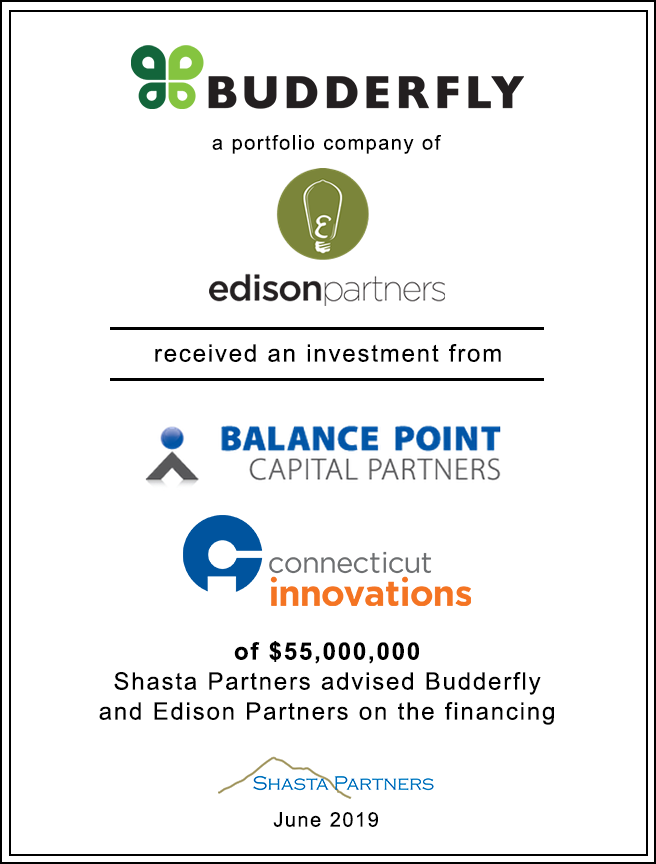 "Greg and the team at Shasta Partners did a great job advising us on the $55 million growth equity investment and project debt funding led by Balance Point Capital. We leveraged Greg's expansive network of private equity investors to find the right fit with Balance Point Capital. The financing included a project debt funding component which added an element of complexity to the transaction. Shasta was up for the challenge and we could not be happier with the outcome. I have relied upon Greg's insights and advice for over 15 years and have worked side-by-side with him on multiple transactions. I would recommend Greg highly and look forward to partnering with the team at Shasta Partners again in the future."
Al Subbloie / Founder, Budderfly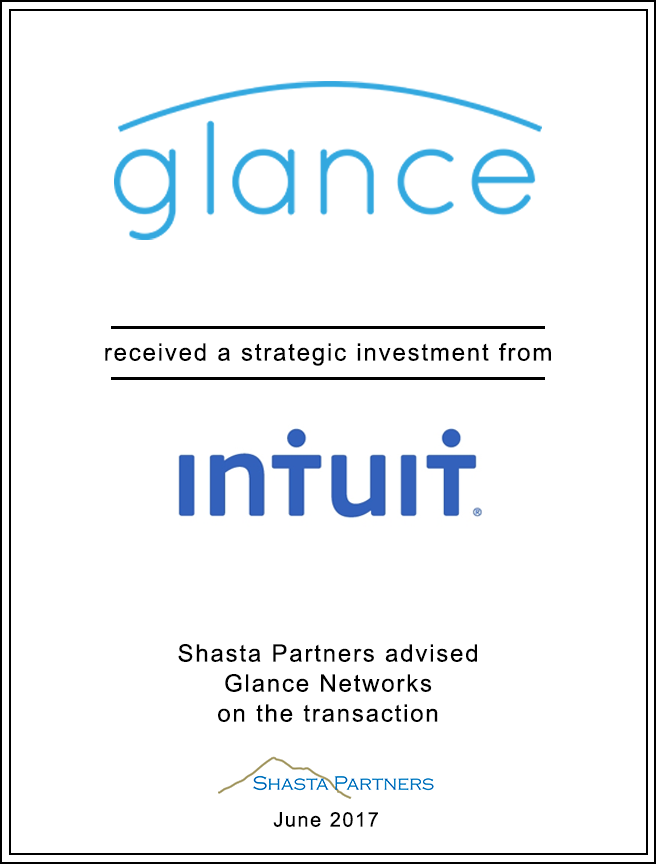 "Shasta Partners did an outstanding job advising us on the strategic investment by Intuit. Being our first institutional round of investment, there were many aspects of the transaction that we needed counsel and guidance on. Shasta Partners took the time to explain all aspects of the transaction, including key valuation and structural considerations. They negotiated hard on our behalf and we are extremely happy with the financing. I would recommend Greg and Bob highly and look forward to partnering with the team at Shasta Partners again in the future."
Rich Baker / Founder, Glance Networks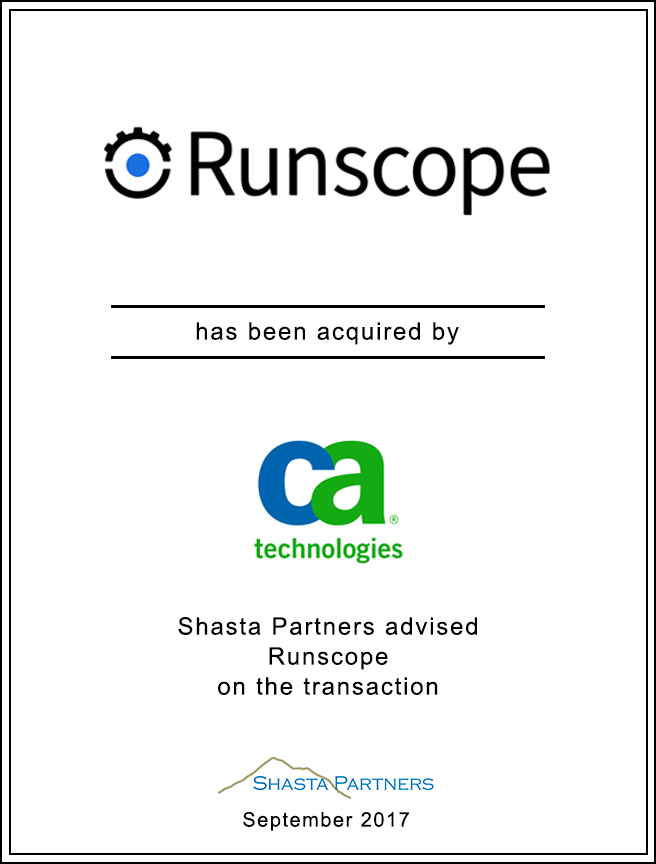 "Greg, Bob and the team at Shasta Partners were great to work with on this assignment. Shasta Partners provided execution and process expertise, valuation insight and negotiation skill in our sale to CA. They quickly got up to speed on my business and provided insights on how we should target possible buyers. Greg and Bob led discussions with corporate development and effectively dovetailed these with my relationships on the business side. Throughout they demonstrated a keen understanding of what it takes for a company of Runscope's size to complete a transaction with a much larger buyer."
John Sheehan / Co-Founder, Runscope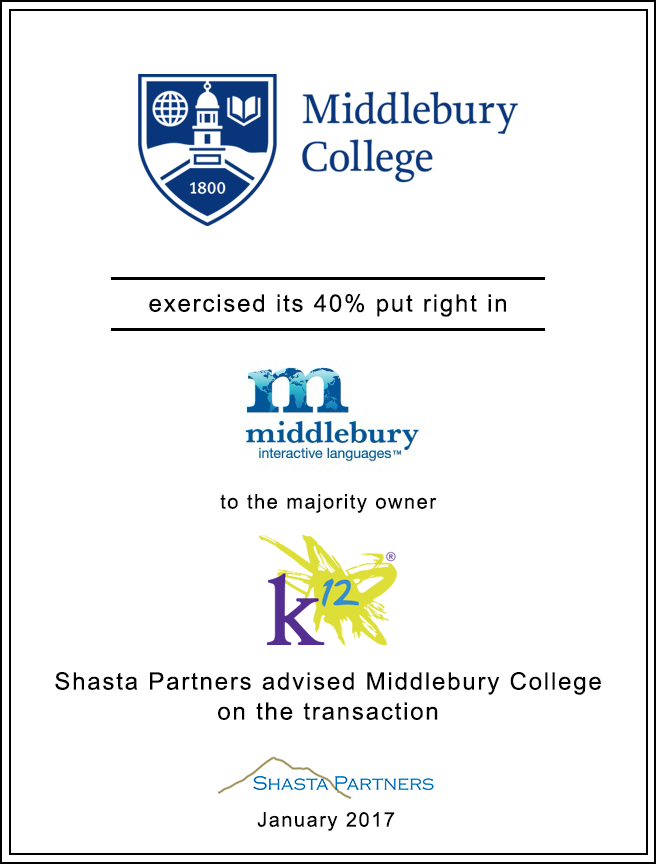 "Greg and the team at Shasta Partners provided valuation insight and negotiation tactics and strategy in the sale of Middlebury's 40% non-controlling interest in MIL to majority owner K12. The assignment required broad valuation expertise as well as creative M&A negotiation skills. The lengthy negotiations had the usual twists and turns due to the complexity of the interlocking relationships of the principal parties. Greg remained committed and engaged throughout the course of the assignment."
Patrick Norton / Vice President and Treasurer, Middlebury College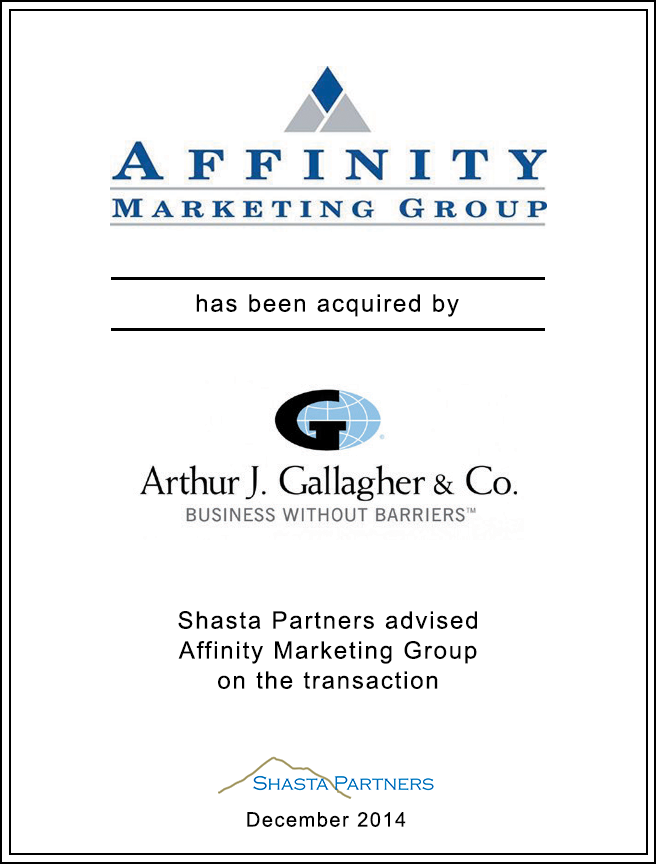 "Greg and the team at Shasta Partners provided invaluable guidance and support throughout the process to deliver a great outcome for AMG's shareholders and employees. With the sale to Arthur J. Gallagher, we become a strategic part of one of the world's largest insurance carriers. Every step of the way, I knew that Shasta was in our corner and had my best interests at heart. I would not hesitate to use or recommend Greg and his team again in the future."
Doug Furbush / Founder and CEO, Affinity Marketing Group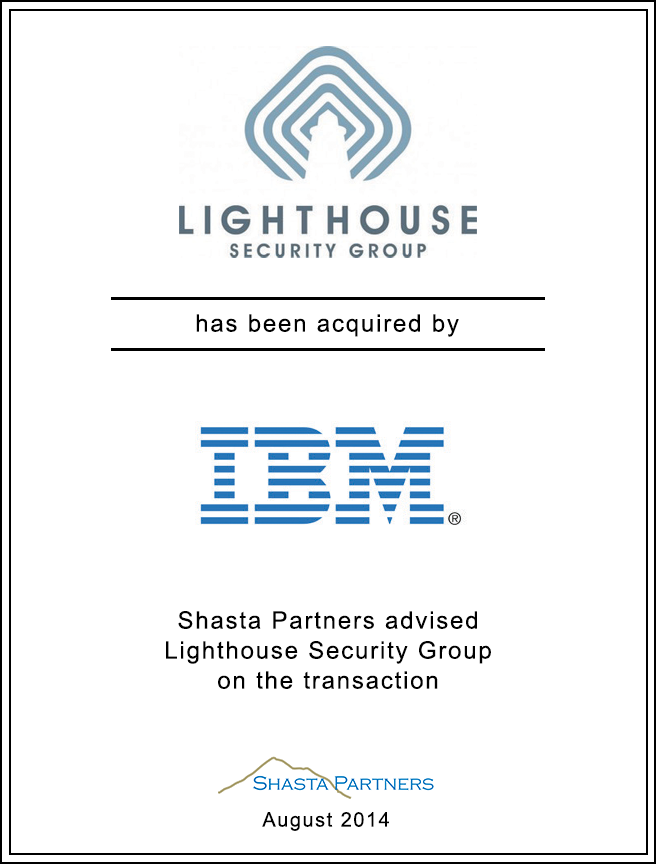 "Shasta Partners led a thorough and efficient process that resulted in a competitive bidding environment which drove the value we received for Lighthouse Security Group. The Shasta team really dug into our financials and provided key insights which were instrumental to the process. I am thrilled with the results of the transaction and I look forward to working with Shasta Partners again on my next deal."
Ernie Yenke / President, Lighthouse Computer Services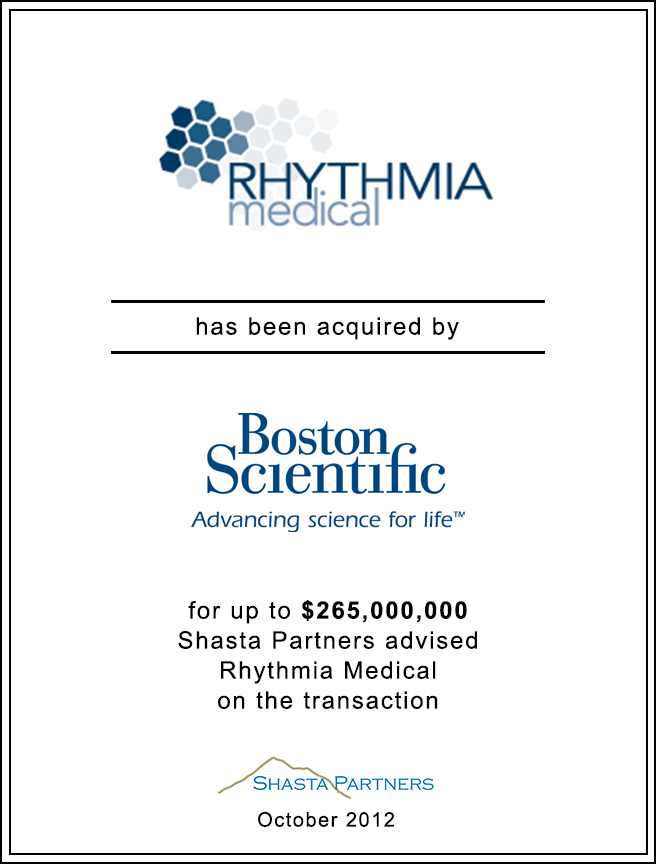 "We are very excited to combine our mapping system with Boston Scientific's strong catheter platform and commercialization capabilities. Shareholders have achieved significant upfront returns and are positioned to participate, along with employees, in excellent longer term opportunities. Shasta Partners was a trusted and valued advisor. They provided valuable input over an extended period prior to this transaction and exhibited an impressive facility through an accelerated negotiation and valuation process. I would welcome the opportunity to work with them again."
Leon Amariglio / Co-founder and Co-CEO of Rhythmia Medical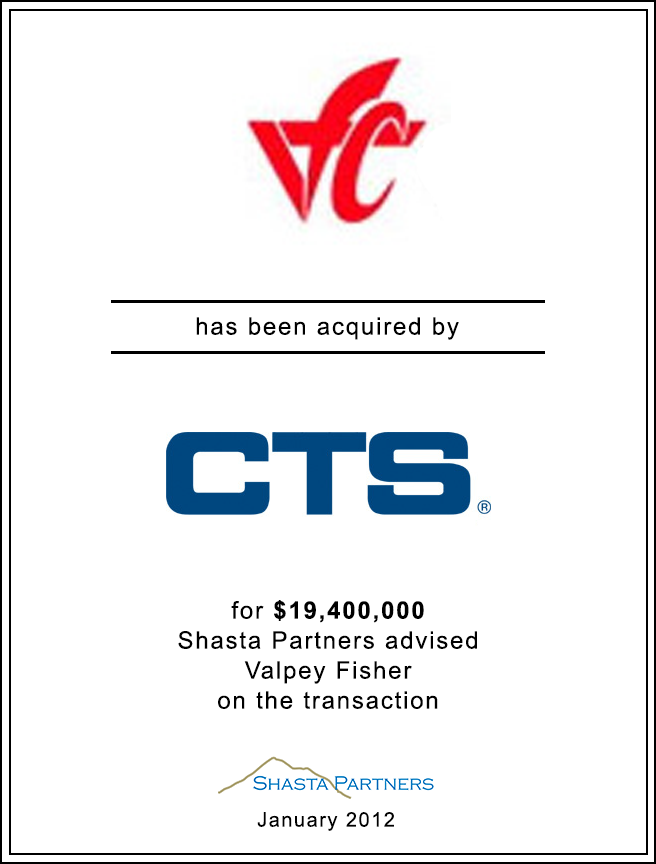 "This represents a great value for the shareholders of Valpey Fisher while providing excellent long term growth opportunities for the Valpey Fisher employees. Shasta Partners was a trusted and valued advisor to the management team at Valpey Fisher and its Board of Directors. Greg provided invaluable insight into the negotiation and valuation process. I would welcome the opportunity to work with Shasta Partners on another transaction."
Mario Alosco / Valpey Fisher Boardmember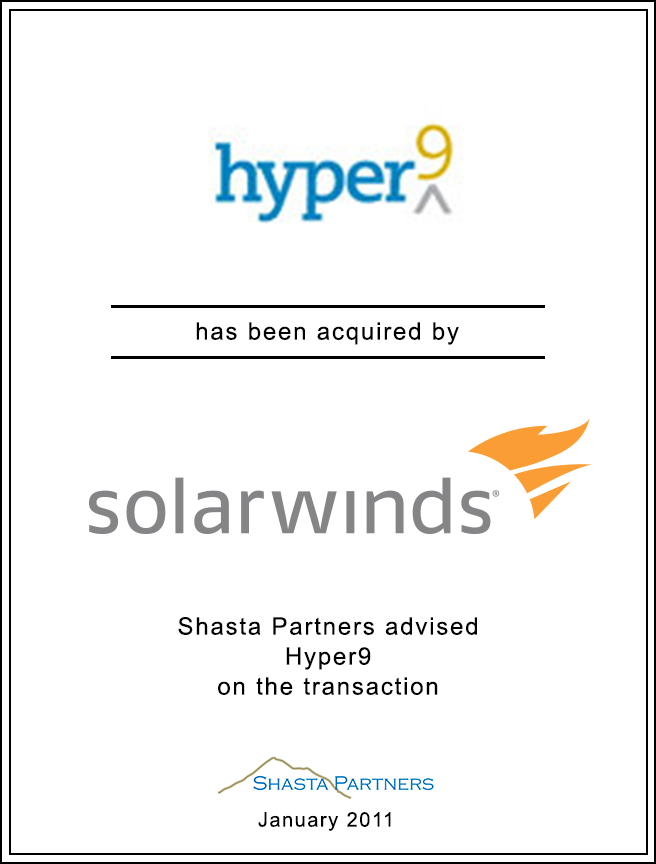 "Shasta Partners worked diligently with the management team at Hyper9 and its Board of Directors to manage a timely and efficient process. The result was a successful outcome for the company, its investors and SolarWinds. Greg and Bob managed communications very effectively and continuously offered creative solutions along the way. With Shasta serving as a critical partner throughout the process, we were able to keep to a very aggressive time table for the transaction. I would look to partner with them on another transaction."
Bill Kennedy / CEO of Hyper9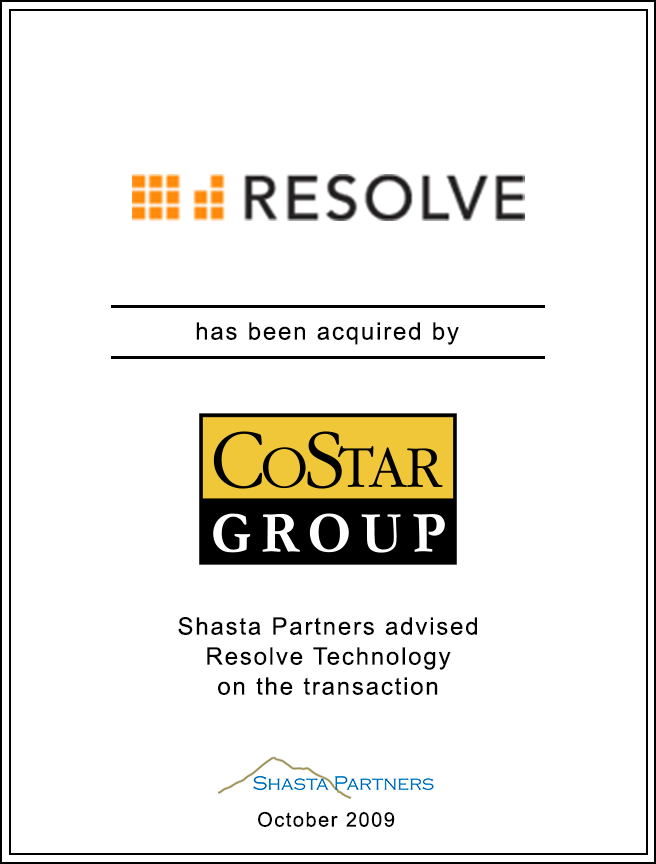 "Shasta Partners played a pivotal role in the sale of Resolve Technology. Our process attracted multiple parties and Greg guided us from initial discussions through due diligence and the negotiation of the principal terms of the transaction. We were able to keep to a very aggressive time table for the transaction due to Shasta's involvement. As a founder, selling your business can be a very trying and emotional process — I was glad to have Greg and his team by my side throughout the process. I am very pleased with the outcome and excited about the potential to expand our business intelligence and analytics platform under CoStar."
Eric Forman / Founder and CEO of Resolve Technology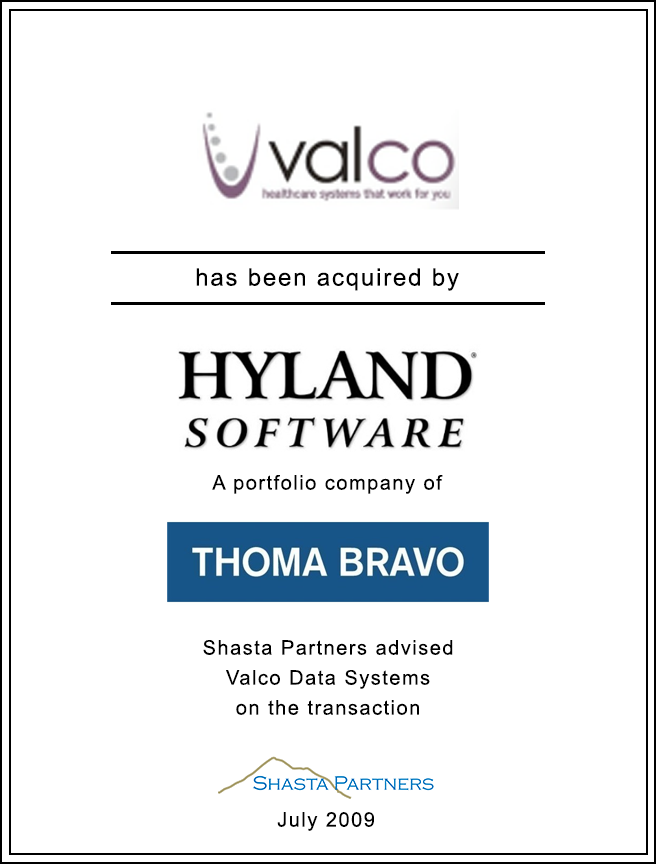 "Shasta Partners advised us every step of the way in our strategic discussions with Hyland Software. We relied upon Greg's broad deal experience and insights to navigate through the tough issues that arose throughout the sales process and ultimately in closing the deal. The advice we received from Shasta Partners was critical in helping us achieve this great result. We are very happy with the outcome and would recommend Shasta Partners."
Ed Valliere / Founder and CEO of Valco Data Systems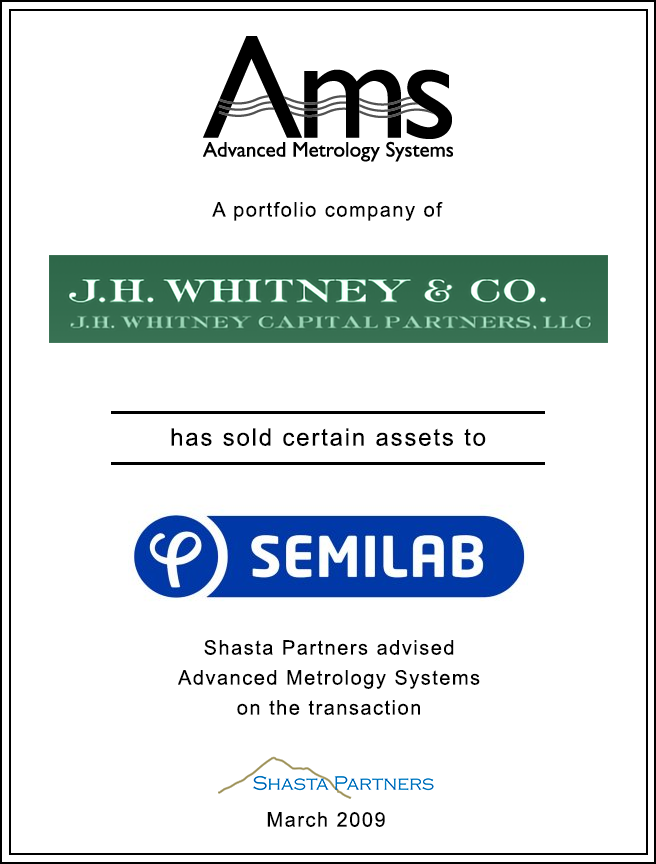 "In a very tough M&A environment and challenging industry conditions, Shasta Partners successfully advised us on our cross-border sale to Semilab. Throughout the assignment, Greg was very hands on. His hard work and perseverance paid off as we successfully sold our business to Semilab. We are very happy to have found such a strategic match for our business."
Chris Moore / President and CEO of Advanced Metrology Systems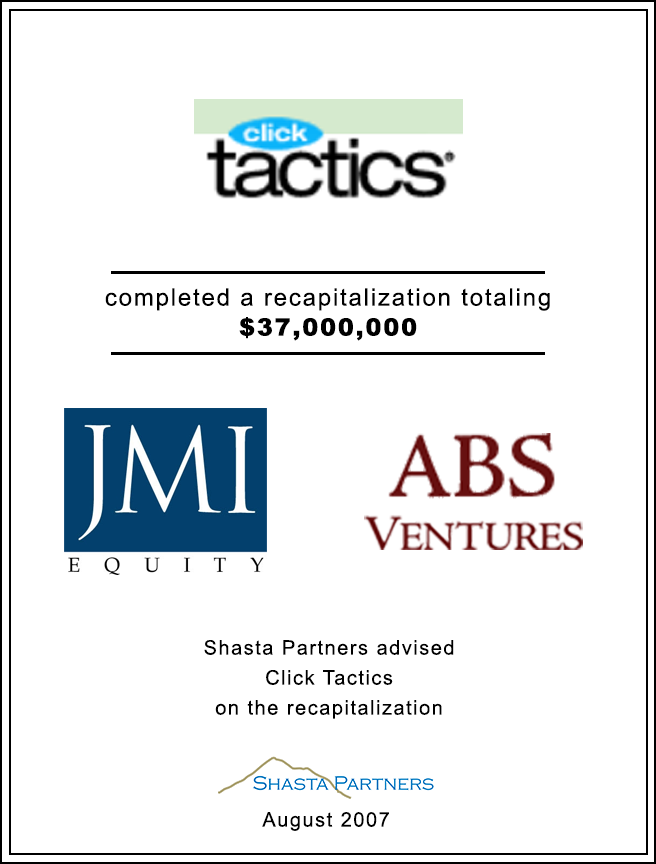 "Our recent recapitalization was one of the more difficult deals to complete in my career. Greg's strong relationships with the private equity firms involved with our recapitalization was extremely helpful to the process. Shasta Partners effectively managed a very complicated recapitalization process involving many different constituents. Shasta Partners has worked with us on a number of strategic initiatives — from helping to evaluate buy-side opportunities to providing valuation services. I have worked side-by-side with Greg for many years dating back to when he was our lead banker for the IPO of Exchange Applications in December, 1997."
Andy Frawley / President and CEO of Click Tactics, Inc.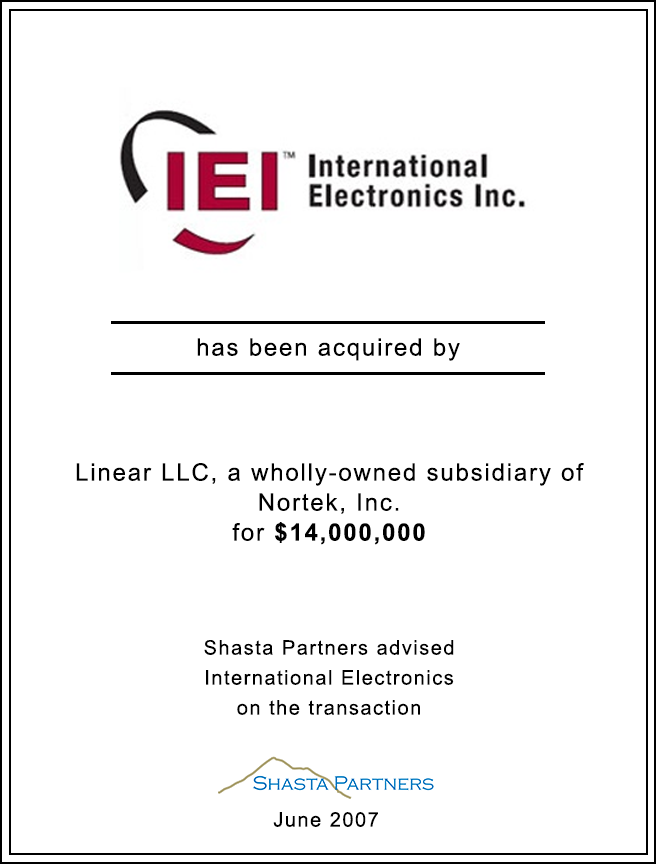 "From the beginning of the assignment, Greg Burkus not only led the team at Shasta Partners but also helped me with the day-to-day management of our deal. Greg was very focused on our transaction. He was instrumental in our company obtaining the final offer from Nortek of $6.65 per share in cash which compared very favorably to the initial, unsolicited offer of $3.50 per share. We view Shasta Partners as a trusted advisor and are extremely happy with the outcome."
John Waldstein / President and CEO of International Electronics, Inc.